Egg Drop Franchises in the Philippines and How Much They Cost
Everything Korean has become extremely popular with Filipinos—from K-Dramas to their hit pop songs. Even their delicious food has become a Pinoy favorite. In fact, a lot of local businesses have started including Korean dishes on their menus. The top items on the list are samgyeopsal, jjigae, and bibimbap.
Korean-inspired restaurants, snack houses, kiosks, and cafes have also popped up on every corner. Without leaving the country, you can even sample their street food, like the famous egg drop and corndog.
If you're thinking of starting your own food business, why don't you try making your own egg drop sandwiches or franchise popular brands in the Philippines?
Here are two of the most popular egg drop franchises in the Philippines you should check out:
1) Egg Stop
Egg Stop is one of the most popular Korean egg drop businesses in the Philippines. In fact, the brand already has so many branches all over the country.
They have eight egg drop varieties to choose from. There's the Egg Cheddar Sandwich, the Egg Salad Sandwich, and the Hungarian Sausage Egg Drop, to name a few.
Their egg drop sandwiches are affordable, too, with prizes ranging from Php99 to Php159. They also have side dishes like criss-cut fries and tteokbokki with egg and cheese. Iced tea and juice are also available.
You can start your own egg drop business with Egg Stop for Php149,000, including an outdoor kiosk or cart, ingredients, supplies, recipes, packaging, and staff training.
If you're interested in getting a mall kiosk, your initial investment will cost around Php250,000 to Php500,000. On the other hand, a food court kiosk will cost around Php350,000 to Php500,000.
Once you've decided which franchise arrangement suits your budget best, you can fill out their franchisee profile form and attach a government-issued ID with a photo and signature.
An Egg Stop consultant will contact you to talk to you about your application. Once you receive their approval, sign the franchise agreement, and pay the initial investment, they will deliver your kiosk and train your staff. You can start selling egg drop sandwiches in 14 days.
If you need more details or have more questions, you can download their franchising kit here or visit their website here.
2) Momo Korean Egg Drop
Momo started in 2021 as a business experiment among five friends. They sought to find a way around the devastation that the COVID-19 pandemic caused in the Food and Beverage industry.
Since all of them were K-Drama fanatics, they thought of bringing the Koreans' egg drop to the Filipinos. Today, they've established several branches of Momo around Metro Manila. They have also opened this business to anyone interested in franchising.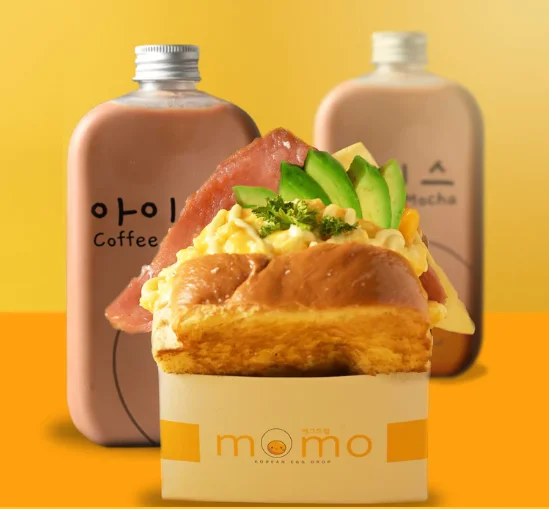 Just visit Momo's website (click here), where you'll find a form. Input your name, email address, phone number, and details about your inquiry. They encourage you to include why you want to start an egg drop business and whether you have experience running a food business.
You can also send your inquiry to momoeggdropfranchise@gmail.com.
They currently have eight varieties of egg drops—all named after some of Korea's most notable places and destinations.
Prices range from Php175 to Php270. They also have other dishes on their menu, like their Kpop Chicken Skin, Kpop Chicken Popcorn, Kpop Tofu, Bacon Buttered Rice, and Beef Kimchi Rice, to name a few. They also serve their own blend of iced tea and cold brew.
Before starting your egg drop business
The success of your food business doesn't only rely on your recipe and presentation—it also depends largely on your location. So before putting up an egg drop kiosk or coffee shop, ensure your location has enough foot traffic.
Some small business owners also conduct surveys or observe their surroundings to see the local demands before starting a food business. An egg drop business might be your next best investment if you have a location with many young consumers and K-Pop lovers.