Borzo Rider Application Process and Requirements
Who would have thought we'd come to a time when everything you need arrives on your doorstep with just a click of a button? That's exactly what online shopping and same-day delivery do for consumers and business owners alike. One same-day delivery app steadily climbing the list of must-try services in the country is Borzo, previously known as Mr. Speedy. If you haven't heard of it yet, it's an international platform connecting businesses and individuals needing deliveries.
Currently, Borzo operates in 10 countries worldwide, with services ranging from quick same-day deliveries to taking cash orders and securely delivering important documents.
Borzo also offers an excellent way to earn money. Just follow the simple steps below to become a Borzo rider.
How to become a Borzo rider
Before you start the application, you will need to download Borzo mobile app from Google Play or Apple app store. After downloading the app, simply follow the step-by-step application process below.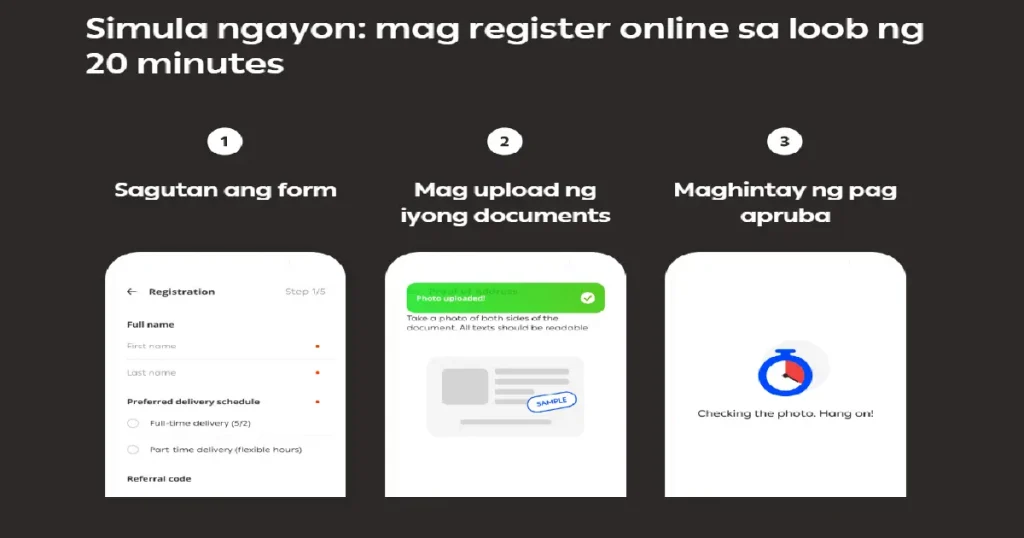 Step 1: Fill up the registration form
Answer the registration form, asking for your location and full name. It will also ask you to take a photo of yourself, which will serve as your identification.
You can also download the Borzo Delivery Partner App through the app store and Google Play. After you've installed it, you'll be prompted to confirm if you are located in the Philippines. Click "Oo" and enter your mobile number.
You will receive a one-time password and be prompted to enter your name and region. You will also be asked to upload a profile photo.
Step 2: Submit relevant documents
Once you click next, you will be asked to upload a copy of your NBI Clearance. It will also ask for your complete address and BIR Tax Identification number.
Make sure you take a clear photo of your documents. You also need to double-check the I.D. numbers that you will enter.
Step 3: Wait for confirmation
Borzo will review your application and send you a confirmation after 24-48 hours. Afterwhich, you can start taking orders and delivering around your area.
Related Article: How to become a GrabFood Merchant
Frequently Asked Questions
Is the Borzo rider application free?
Yes. You don't need to pay a registration fee to become a Borzo rider.
Do I get a Borzo insulated bag for free?
You can buy a Borzo insulated bag from the company's office in Pasig. New riders get a discount after attending the company's on-site training and passing the exams.
Borzo also runs promos for their drivers. For example, if you are able to complete 40 orders within seven days after becoming a Borzo rider, you get an insulated bag for free.
Can I apply if I have a non-professional license?
Yes. Borzo allows their riders to have either a non-professional or professional license, provided it's valid.